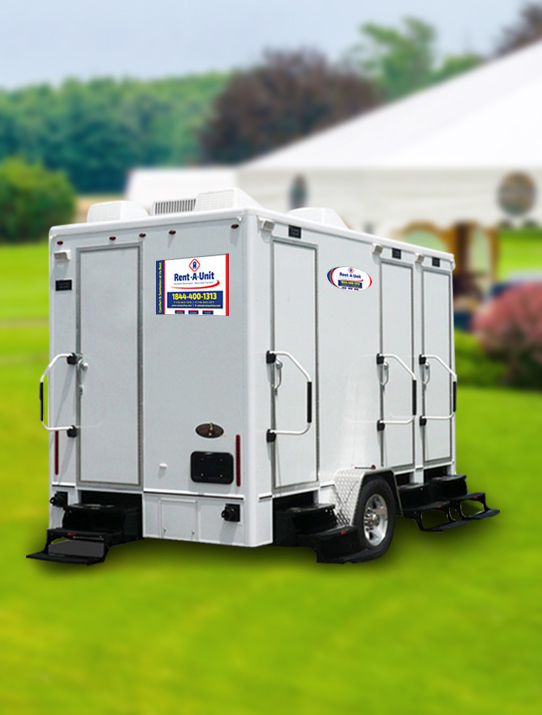 Luxury restroom trailers for special events, short and long-term rentals
When it comes to organizing a Special Event, you want every detail to be perfect, especially the bathroom facilities for your guests. Only RENT A UNIT offers exclusive one-of-a-kind luxury restroom trailers that are guaranteed to impress. RENT A UNIT'S restroom trailers leave no detail unturned mimicking restrooms inside estate homes, castles, and five-star hotels.
The RENT A UNIT restroom trailers create an atmosphere of lavish indulgence for your special event. Roomy interiors are tastefully designed with rich marbled walls and warm woodwork. Each portable restroom in this series provides privacy and discretion with private rooms as well as luxury details for the ultimate upscale experience. Plus, we include VIP amenities with your rental to pamper your guests.
Every RENT A UNIT Special Event Luxury Restroom Trailer contains custom framed artwork, beautiful floral arrangements, stylish filled soap dispensers, hand towels, tissues, and a speaker and central music system for your guest's enjoyment.
Thermostat heat and air conditioning is also inside every restroom trailer for year round comfort. RENT A UNIT always delivers the cleanest portable bathrooms in the industry using only hospital grade cleaners and disinfectants.
When you rent a RENT A UNIT you also know you will receive Luxury Restroom Trailers that are unavailable any where else. So whether you are planning a formal wedding celebration with hundreds of guests or an intimate social gathering, RENT A UNIT has the perfect luxury restroom trailer to accommodate any portable restroom need.
Features
Specifications
Options
Services
Weather-sealed, high-strength fiberglass construction
3 screened sliding windows for ventilation and visibility
Interior and exterior door locks
Rain gutter over door
Skylight and interior bulb for 24-hour illumination
Electrical outlet
Built-in bench and shelf
Dimensions: 48" x 46" x 85" (122 x 117 x 216 cm)
Door opening: 30" x 70" (76 x 179 cm)
Weight: 180 lbs. (82 kg)
Window size: 16" x 20" (41 x 51 cm)
Interior light: 110 volts